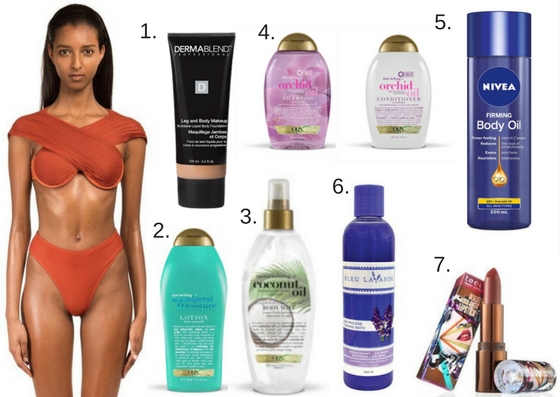 Beach season is upon us! Are you ready for it yet? I'm going to give you the rundown on some of the best beach beauty must-haves that you need this season. Your friends are planning a beach trip and you don't want to be shabby so preparation is key. Even if you're going solo, you want to be prepared for any kind situation that might present itself. My advice is to show up looking like glam and carrying the products you need for a flawless beach outing. Ditch all you've ever been told about beach beauty and follow this guide step by step to look your best. Here are some of my summer beach beauty must-haves:
1. Dermablend Professional Leg and Body Makeup
Dermablend Professional's newest product, Leg and Body Makeup, is like nothing else on the market! Perfect for the beach, it is water-resistant and smudge-resistant and boasts a whole 16 hours of long-lasting color wear when used with Dermablend Professional's Loose Setting Powder. The hydrating formula can be applied just as you would body lotion and is suitable for all skin types! Whether you are choosing to conceal tattoos, a skin condition such as vitiligo, or you simply want the perfect base for flawless skin, Dermablend Professional Leg and Body Makeup is powerful makeup for all – dermatologist created.
2. OGX Quenching + Sea Mineral Moisture Body Lotion
Whether or not you're planning on travelling this summer, you can get some vitamin sea with this body lotion! This ultra hydrating lotion is a deep-sea moisture wrap treatment to help soften and soothe your body every day for supple, healthy looking skin.
3. OGX Nourishing + Coconut Oil Weightless Hydrating Oil Body Mist
To add another summer touch, spritz in some heavenly scented body mist to nourish and hydrate skin. With this body mist, you can take the irresistable scent of beachy tropics with you everywhere you go. You'll go coconuts over this one!
4. OGX Fade-Defying + Orchid Oil Collection Shampoo and Conditioner
With a high-potency blend of orchid oil extract and grape seed oil, this duo is ideal for protecting your tresses. Its lightweight and nourishing formula helps to prevent premature fading and lock-in color for long-lasting vibrancy. The UVA/UVB filters in this collection deflect both types of sun rays to keep your colour vibrant!
5. Nivea Q10 Firming Body Lotion
This fast absorbing firming body lotion containing Avocado Oil, Cottonseed Oil and Macadamia Oil is a powerful ally for when you need to don that swimsuit at the beach. It promises to firm skin in as little as 2 weeks, and helps to nourish dehydrated post-winter skin. It also helps to reduce the appearance of stretch marks. You can't be more prepared for a day out on the sand!
6. Bleu Lavande Foaming Bath
This soothing lavender-scented bath foam is perfect for an indulgent post-beach treat. Made with true lavender essential oils, the scent of lavender is sure to revitalize and help any beach-goer this summer to relax—so they can get ready for another long summer day out in the sun!
7. Teeez Cosmetics Desert Sheer Lush Lipstick in Cedar Sand
Also for your lips, smack on this semi-transparent lipstick that gives your lips an intense colour and subtle water gloss finish for an eye-catching look that will complement bronzed skin to a tee. This nourishing lipstick also has SPF 10 to protect your lips from harmful sun rays on your days in the sun.