African print fabrics are hard to come by when you're living outside the continent. Most people turn to their local ethnic stores to get their fabric or source them directly from the source through relatives who are travelling from African to the diaspora. Well, I am pretty excited because my dad sent me a box of African print fabrics all the way from Nigeria via an uncle in Los Angeles and I got it just in time to write this blog post. I would like to share a few things you should keep in mind when looking to buy these fabrics.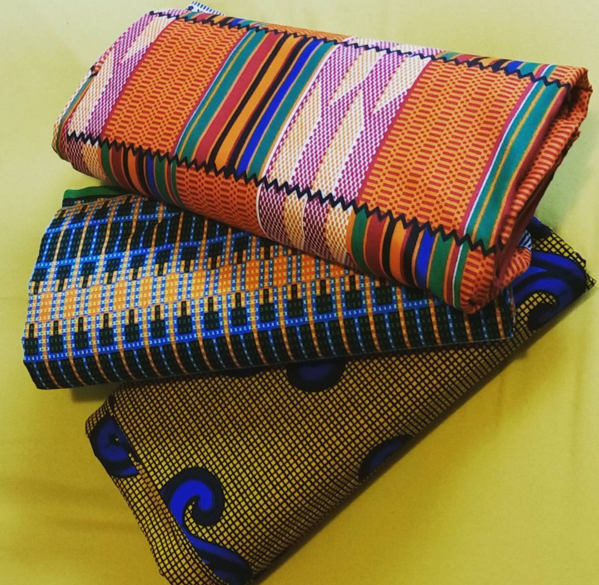 Just because these were sent to me doesn't mean the process was a piece of cake. The items were shipped out through FedEx but there was a clearance delay and it took almost two weeks to get to me. Luckily I had the tracking number and was able to track the package so I noticed when there seemed to be an issue. I called customer service to resolve it and the next day I got my goods. To cut the long story short, if you are getting items sent to you, just make sure the shipper always declares the contents of the package including the overall value of the items so it doesn't get delayed at customs. Like I said earlier, the best way to get African fabric is still to have someone ship it from Africa to you but if that does not work or you don't know anyone who can do it for you, you can follow the steps below.
Etsy: There are a whole bunch of retailers on Etsy selling African fabrics. Most of them are in the United States. All you need to do is just search carefully using the search terms "African print fabrics" or "ankara prints" and a lot of results will show on the page. Start by trying to find someone close to your location who is a seller. Make sure you read all the reviews for that seller especially their rules on shipping, taxes, returns and exchanges.
Local African Stores: Do some digging in the city where you live to find a local retailer who sells the African fabrics at a reasonable price. You can ask Africans in the city, visit the multicultural centre or neighbourhood association for resources. In Canada for example, there are many ethnic stores in the African Diaspora where you get access to the fabric. Ask around the community, inquire from friends and see if you can get a word of mouth recommendation for someone to buy from.
Vlisco: When all else fails, you can always turn to the top brands and patronize the big players in the game by buying directly from their online stores. One of such players is the popular Vlisco brand which consists of four fashion textile brands that first established the world of African print fashion.
I hope these tips help you to find what you are looking for. Have you bought African print fabric online before? Be sure to share your shopping tips and experiences in the comments section below.