Hosting a Thanksgiving dinner is super easy to do especially if you plan ahead and source all items you will need for the food and table setting. Thanksgiving is celebrated on the second Monday of October in Canada and on the fourth Thursday of November in the U.S. It is an important holiday that has its historical roots in religious and cultural traditions. As an immigrant, it took me some time to really understand the cultural and religious contexts behind thanksgiving in Canada but I have come to appreciate how important it is to be thankful for everyday blessings. I practice gratitude on a daily basis and I am no stranger to the fact that you have to be thankful for today in order to attract whatever you need for tomorrow.
So, I cannot think of a better way to celebrate than with the delectable West African dishes I grew up with and probably some from the East that I have also come to enjoy. I'm from Nigeria and my friend spent a year in Senegal where she learned the cuisine so we're planning on joining forces to do a West African fusion. I am thinking of extending a private invitation to a few friends and family who have really been there for me. It's going to be a small gathering because I am not a big fan of large crowds. I love quality over quantity and an intimate event with a limited number of people enables me to build deeper, more meaningful relationships.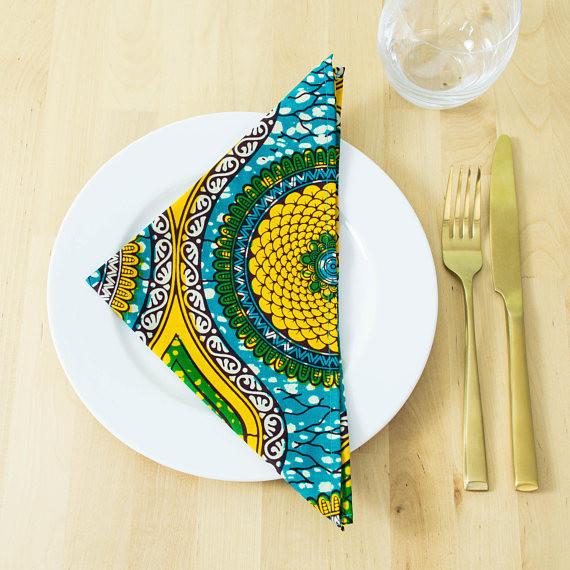 My decision to host a Thanksgiving dinner is very much a spur of the moment thing but I think I'll be documenting my journey to share with you so you too can be inspired. Before you think of hosting any type of dinner, it is important to have a plan. You will want to think of everything you are going to need. Get creative about the table setting you are going to use and how that will match the dishes you are presenting to your guests. Actually, the experience is what matters the most and you want to create the right ambiance for your guests. Make them feel like they are having a truly authentic African experience. You can play with the decor and colours to create the right atmosphere.
Now, getting access to print fabrics for your Thanksgiving dinner can be somewhat difficult depending on what part of the world you are located but thanks to the internet, you can order online and have them shipped to you. So, if you're not sure where to start, I'd like to recommend you check out Bespoke Binny's website for things like African print napkins and table runners.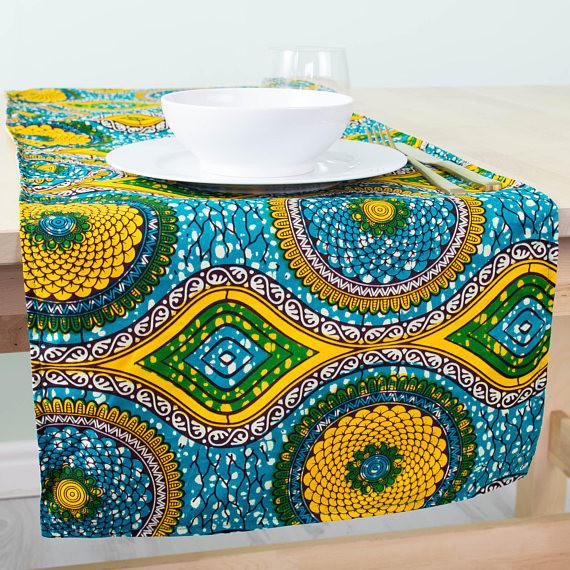 You can use these items because their design is simple and can be easily paired with other accessories. Plus, they will add style and colour to your dining experience. Also, they are 100% cotton which makes them very soft and absorbent. You might want to use plain white or subtle coloured plates and bowls to prevent a colour clash since the African prints are already colourful. I find it very classy and the idea here is to build a cohesive theme. You don't want your table looking too busy and cluttered.
As for centre-pieces, you can go for fresh flowers to match one colour on your print fabric or opt for candles. In the past, I have been daring enough to use tall wood carvings and other interesting artifacts such as Nok art. Basically, Nok art is popular in Nigeria and it refers to sculpted figurines of humans, animals or other figures made out of terracotta pottery. I find that they are great conversation starters around the dinner table but they could be a bit distracting as well so use in moderation.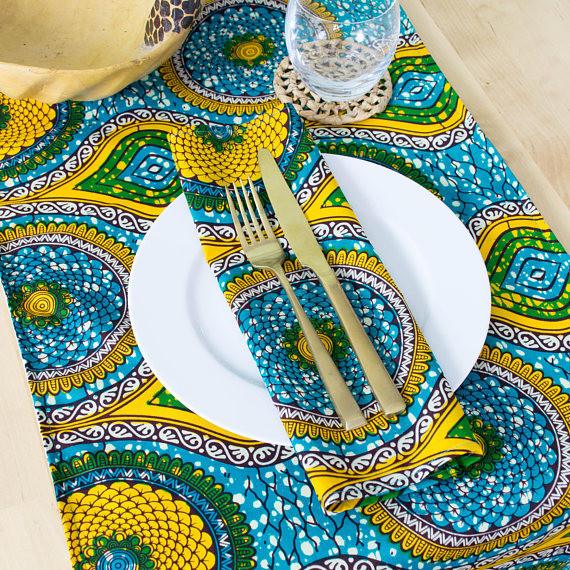 In my next post, I will be delving into suggestions for specific dishes you can create without losing the essence of a traditional North American turkey dinner including links to the best recipes. What do you think of Bespoke Binny's table napkins and runners? I think they are like a dream! So beautiful.