Incorporating prints into your office style can be a tricky ordeal. A lot of people think you can't wear African prints to work. Well, however unspoken is the general idea out there that ankara is too bold for the boardroom, in the Western world at least. Is this really true or is it a fallacy? I think it depends on personal style and how you put the pieces of clothing together. I did a collaboration a while back with Canadian online retailer of African fashion Kuwala where I styled one of their dresses for work and it looked absolutely stunning. In this post, I share a few of my tips for wearing African prints to the office to help upgrade your office style.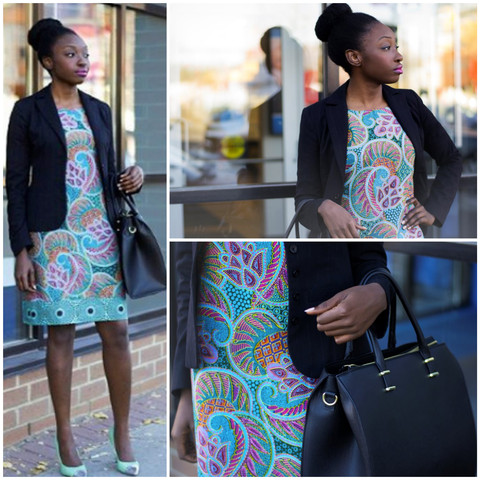 Wear a neutral blazer over dresses.
The dresses should not be too long. I always believe that there is a professional length. Knee level or just below is fine. On rare occasions, you might be able to get away with the midi length. Anything longer and you're going to look like you're wearing a costume. If you're heading to the office or that important meeting, just wear a blazer over the dress in a matching neutral colour and you are good to go.
Match print skirts with dress shirts.
Dress shirts are great to go with print skirts especially if it's plain white. Striped shirts also pair seamlessly with most ankara fabrics. Create a seamless look by tucking in the shirt and wearing a waistbelt over it. Note that for the best look, your dress shirt should always be tucked into the skirt instead of left out.
Avoid open toe shoes and sandals.
There is something about open toe shoes and sandals when worn with ankara… it dresses down the look. You want to look serious but not too stern and so I recommend low-heel pointy shoes. If you prefer a high heel, that's okay too but make sure it's not too high. Six inch heels are probably not appropriate unless you are going to the club.
Don't wear any accessories
Personally, I prefer not to wear accessories and if you have to, keep it to the bare minimum such as earrings. Bold necklaces, although they look really good can be distracting. Absolutely avoid chunky bracelets and bangles. If you look in the mirror and feel that you have a lot going on, you probably do so go slow on the jewellery.
Carry a firm office handbag
Go for bags that are sturdy and firm. Dare to hold a briefcase. Not only are they big enough to hold your documents or folders, they are best used for carrying your laptop, tablets and other important gadgets such as phone chargers.