Maui Moisture meets and exceeds my expectations for everything I need in a hair care product. This is why I'm so excited to introduce you to Maui Moisture's Curl Quench + Coconut Oil hair shampoo, conditioner and smoothie.  They are made with only the best ingredients in the market to keep your hair looking and feeling fabulous! Usually, my weekends are for pampering myself beauty-wise so there was no better opportunity than now to try these products. Plus, my hair had been quite dry and thirsty so the nourishing it received was needful.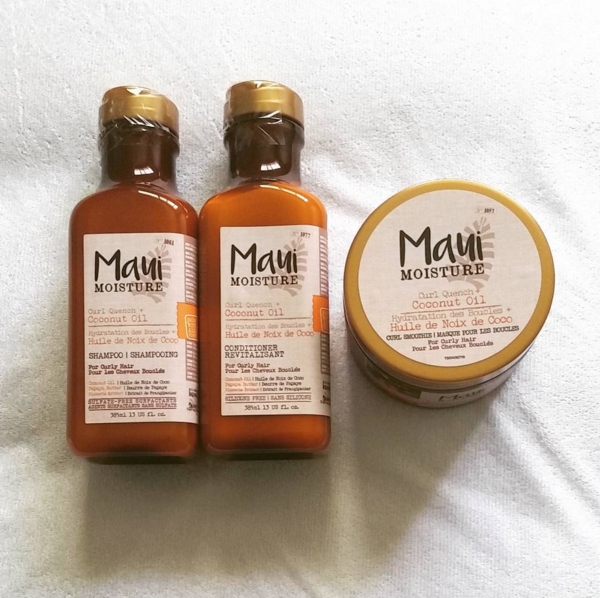 The first thing that caught my attention when I opened the package was a lovely coconut scent which is great because I love my hair smelling good. The fragrance comes from the pure coconut water infused into a unique blend of aloe vera juice. Rich coconut oil is also blended into each one making for a velvety-smooth, creamy texture that glides onto the hair without any friction. I used a generous amount of the shampoo to wash my hair and it lathered fairly quickly which was surprising considering it doesn't contain any sulphate surfactants.
When I washed the shampoo off my hair and scalp felt clean but not squeaky – it didn't feel like it was just stripped of its natural oils. Next, I poured in some conditioner and let my hair sit for 5-10 minutes before washing it out. After drying the hair with a towel, I applied the curl smoothie without rinsing it off and although it was very creamy, it didn't leave any greasy residue. Overall my hair felt moisturized and hydrated. I think it would make sense to wear the curl smoothie on a daily basis and then wash with shampoo and conditioner once a week. Feel free to adjust this routine to your needs however. The curl smoothie would be perfect for styling your hair and braid outs but as my hair is currently short, I just dab some of the cream, ruffle my curls a bit and I am ready to go!
A couple of hours after going about my day, I reached my hand to my head to touch my hair and it still felt somewhat moisturized, which must be the effect of the coconut oil. Bye to dry and brittle hair forever. I am so glad that I have finally found a cream that won't leave any oily residues on my hair or weight it down with heavy product build up. With other curl creams, I have often had no choice but to keep washing my hair everyday. With Maui Moisure, I don't have this problem of heavy product build up on my strands. My hair is clean and it feels light despite applying the curl smoothie everyday. I love that!
If your hair is longer than mine, you will want to section your hair into four parts and carefully apply the curl smoothie from your roots down to the very ends of each section. Be sure to massage your scalp while doing this for proper blood circulation and flow. Style and then you are on your way. Most natural hair blogger would recommend sealing with some type of essential oil like olive or jojoba but I don't think that is necessary with this product. You see the coconut oil is already built into it so you do not need to apply any extra oils.
Maui Moisture is great for personal and regular hair care as it is specially formulated for curly hair types. I would also recommend it as a gift for any lady who needs to pamper herself and get the tender, loving, care that she deserves. Earlier, I talked about how this product has no sulphates. Well, not only that, it has absolutely no parabens, gluten or synthetic dye. It is 100% vegan and eco-friendly made with pure coconut water and aloe juice.  These products can be found at retailers like Shopper Drug Mart and Walmart.
That's it for now! Try the product when you get a chance and then let me know if you have any questions!
** Disclosure: This blog accepts product samples for reviews.